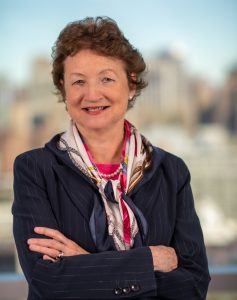 Katherine A. High, MD
President and Head of R&D, Spark Therapeutics
Dr. Katherine A. High is a physician-scientist with a longstanding interest in gene therapy for genetic disease. As an Investigator of the Howard Hughes Medical Institute at the Children's Hospital of Philadelphia (CHOP) and a faculty member of the University of Pennsylvania School of Medicine, she carried out pioneering basic and clinical studies in gene therapy for hemophilia and for a rare form of retinal dystrophy caused by mutations in the RPE65 gene.
As Co-founder, President and Head of R&D at Spark Therapeutics, she led the approval of the first gene therapy for a genetic disease in the United States. Spark has received FDA breakthrough therapy designations for three different therapeutics, including for retinal dystrophy due to RPE65 mutations, and for hemophilia B and hemophilia A.
Dr. High is an elected member of the National Academy of Medicine, the American Academy of Arts and Sciences, and is a Fellow of the Faculty of Pharmaceutical Medicine of the Royal College of Physicians (London).
In addition to her operational role, Dr. High served as a member of the Board of Directors of Spark (2013-2019), and currently serves on the Board of Directors of CRISPR Therapeutics.